We've been really fortunate to be able to inspire people about the Antikythera shipwreck.
Web, print and broadcast media have all helped share the excitement regarding new techniques and finds, taking a sunken time capsule located off an island with 19 permanent residents, around the globe.
Coverage has been on a daily basis in Greek web, print and broadcast media, with many other mainstream media outlets also sharing the news in other languages and countries.
News of the project even topped a Facebook trending list.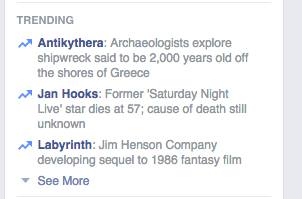 It's too difficult to list all the stories, the following are links to a few examples.
BBC News – Antikythera wreck yields new treasures
CNN – Lost treasures reclaimed from 2,000-year-old Antikythera shipwreck
Nature.com – Famed Antikythera wreck yields more treasures
NBC News – Divers Find Titanic-Type Treasures From Ancient Antikythera Shipwreck
The Washington Post – Stunning video of finds from Antikythera shipwreck
Daily Mail – Return to Antikythera dive unearths new treasures: Ceramic jug and spears are among the latest finds from the shipwreck dubbed 'Titanic of the ancient world'
News.com.au – Antikythera wreck in southern Greece yields new treasures
io9.com – Archaeologists Make Stunning Discoveries at the Antikythera Shipwreck
Philip Hilts from Scientific American joined the team in Antikythera, and has filed the following stories.
Return to the Antikythera Shipwreck: Treasures Found (and Maybe a Second Ship)
Return to the Antikythera Shipwreck: The Exosuit's First Mission
Return to the Antikythera Shipwreck: Technology Tackles Dangers of the Deep
Return to the Antikythera Shipwreck: Marine Archaeology Goes High-Tech
And not forgetting our YouTube videos which were professional productions created on location.
We've done our best to set a new standard for public outreach from in the field.